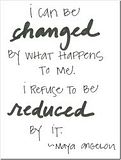 "Hey, this is DeAnn ..." I answer the phone on the second ring. I am excited. Pleasantries are exchanged.
"Well ... I'm not going to be able to extend a job offer."
I am silent. Stunned.
"Well, it's about the historical issue that you mentioned (that I still can't fathom ... and I think I'm pretty clear-headed about things ... I don't need everyone to like me, but I definitely never ever stir it up ... I'm not going to digress here ... I simply don't have the information to work out a conclusion here) ... .
I'm still so silent ... processing ... my husband, now home for lunch, is walking up the driveway towards the mailbox.
"Well ... And we really need full time people (We had already discussed this ... day or two before I put in my application ... I know I can not work 6 days a week ... 5 I can do, occasional Saturday sure thing ... night flights ... no problem, I'll be happy to teach ground ... Just won't make a promise I can't keep ... I have Saturday's promised to my homies). You mentioned the importance of a good fit ... This just isn't a good fit."
I say, "Thank you Chief for the opportunity to interview for
the job
. I wish you every success."
I can hear relief in his voice ... I'm making this easier for him. "Well ... You have the certificates ... I wish you every success in putting them to good use ... You obviously love teaching."
"Thank you for the call" I say ... My voice isn't as strong as I wish it could be ... I'm ready to hang up.