Errands done ... for the morning at least. I have really begun to cherish this time in my life ... where everything seems to happen much slower ... where there is time to enjoy chipmunks antics and subtle changes in the leaves ... time to think about and prepare for the next stage of life. We are pretty sure we will move back to Texas, and find ourselves really giving serious thought to exactly where. Until recently, my husband intended to retire from a "real" job and just do consulting as he saw fit. Now that it is almost time, he is more inclined to take another academic post with the intent to have the summers off for traveling with me. I haven't told him this yet, but I am thinking about trying to "collect" touch and gos in all fifty of the United States ... much nicer then tacky t-shirts or shot glasses! It's a good plan ... We'll see how it works out. He has gotten my attention with a small university in Texas that would suit his needs
and
has a serious flight program. They specifically train missionary pilots ...
and
do a summer camp in Alaska. I would miss my long term beach bum plan, but, this just might be the thing ...
and
, there is a lake right next to the airport ... perfect for sailing and jet skis ...
and
stocked with fish! He said something about a golf course too. Certainly has possibilities.
I need to crank the blower up in order to stay ahead of the leaves which will blanket the yard. We have what a kid from Texas would have to call a forest in the backyard ... I could walk the entire acre and never lose touch with a tree, very dense. Those leaves remain where they fall, but the oak beside the driveway will shed enough leaves to bury the pavement, if not the garage! I think the tree is probably 300 years old ... colossal!
Last night during dinner,
One
pinged me with this picture of his dinner.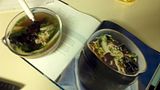 Beautiful. He was thanking me for the cookbook. And it is certainly my pleasure that he enjoys cooking as I do also. I asked him if he knew anything about
that
African Safari cookbook and he laughed a bit before he told me that he was looking at it
right now.
Hmmmm, mystery solved ...
my
cookbook is
his
cookbook.
I guess he was about 18 when he first began to ask for a meal from a foreign cuisine to be prepared for his birthday meal ... that was the only gift he wanted. It was so much fun for me to pour over cookbooks in the bookstore searching for just the right book of recipes ... and then, once the recipes were chosen, it might take days to gather all the ingredients. Sometimes we would need a tool for the kitchen that we hadn't missed before ... or some obscure spice which I can no longer do without. The gift he wished for became a wonderful gift for our family ... and that is just exactly the way he is. After thinking about it for a second I realized that any of the cookbooks that are in my kitchen that he wants ... really are his (except Gulf Coast Kitchens;). Some of my favorite recipes are in the African cookbook and I will have a wonderful time perusing with the intent to replace it. I miss cooking with
One
. I miss him in the kitchen ... he is the only one of my children who loves to cook as much as I do, and the only one who is as (oh, I hate to use the word) persnickety as I about everything from loading the dishwasher
just so
to organizing the pantry
just so
.
I told him that I had prepared Green Chili (American-Indian ... My Dad's recipe) for our dinner last night but had tried something new ... a Greek soup, Avgolemono, the night before. I served it with sautéd eggplant and mushrooms ... and humus (his favorite snack)... Oh! And cold cucumber sprinkled with lemony sea salt. He asked for the recipe which is linked under the post title.
Mikey liked it
. Btw,
Rice Select
is the way to go on the Orzo ... we've tried several other brands ... . Birthday cake was on the table last night ... The girls made me laugh, asking me if I was going to give them another cake slicing lesson. I will probably never live that one down!
Today I am reviewing the Regs with an eye towards the ground session for a someone's flight review. Part 91, here I come.