A friend brought this to my attention today ...
Dietrich Bonhoeffer
Author profile
born February 04, 1906 in Breslau, Germany
died April 09, 1945
gender male
websitehttp://en.wikipedia.org/wiki/Dietrich_Bonhoeffer
genre Religion & Spirituality
About this author:
Dietrich Bonhoeffer was a German Lutheran pastor and theologian. He was also a participant in the German Resistance movement against Nazism, a founding member of the Confessing Church. His involvement in plans by members of the Abwehr (the German Military Intelligence Office) to assassinate Adolf Hitler resulted in his arrest in April 1943 and his subsequent execution by hanging in April 1945, shortly before the war's end. His view of Christianity's role in the secular world has become very influential.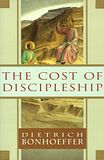 The Cost of Discipleship
by Dietrich Bonhoeffer
(5 stars)
This book is a compelling statement of the demands of sacrifice and ethical consistency from a man whose life and thought were exemplary articulations of a new type of leadership inspired by the Gospel, and imbued with the spirit of Christian civic duty. (Barnes and Nobel site)